Trip report complete!!!
A few weeks a go I took a little trip around Lake Superior. What a nice ride, and weather was near perfect. Left the St. Louis area and followed the Mighty Mississippi to my first camping spot. Along the way I made a stop at American Picker's in LaClaire Iowa.
Next stop was my camp spot. I was going to camp at state parks in Wisconsin, Minnesota, and Michigan. But all of these states charge $10. per night plus camping fee's to out of state campers. Or you can buy a yearly pass for around $30-$35. per year. That made me cross the river in to Iowa and a $12. camp spot. This Iowa state park (Pikes Peak) was wonderful. It was located just south of McGregor Iowa.
Dinner that night was hotdogs and chips. What I like about traveling alone is... your never alone. After I set up camp and had a fire going a couple came riding in on the bicycles. After some small talk I ask what was for supper? They replied freezed dried something... Having plenty I had my new friends over for dogs and chips. They even brought over a bottle of wine.. Perfect..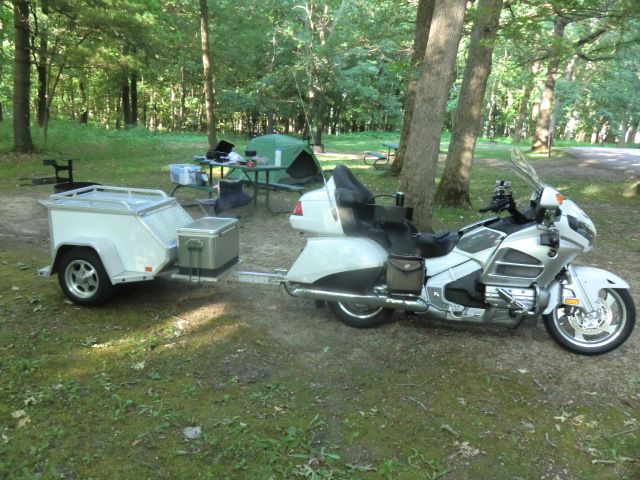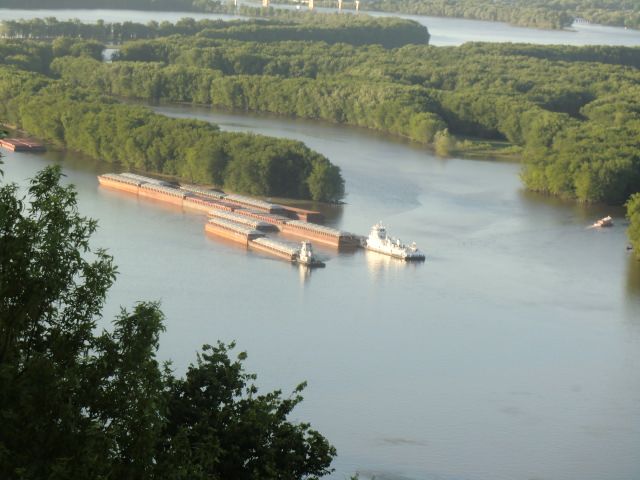 Day 2 was to meet up with a friend from Kansas City, Kansas. I did spend a hour or so at Aerostitch in Duluth Minn. Cool place, as I have been there before. They sell motorcycle related gear, and make in the USA riding suits. After that stop I found out my buddy was about 1 1/2 hours behind me. I found a nice little cafe on the shore of Lake Superior for a late lunch. Fish taco's.. I'm a little far from home to eat raw fish, but what the heck.. I'm on vacation. And it was very good.....
After lunch I was able to meet up with my buddy. He was in need of a bite to eat and we found this place..Tom's Logging Camp. It is great to see these places are still around.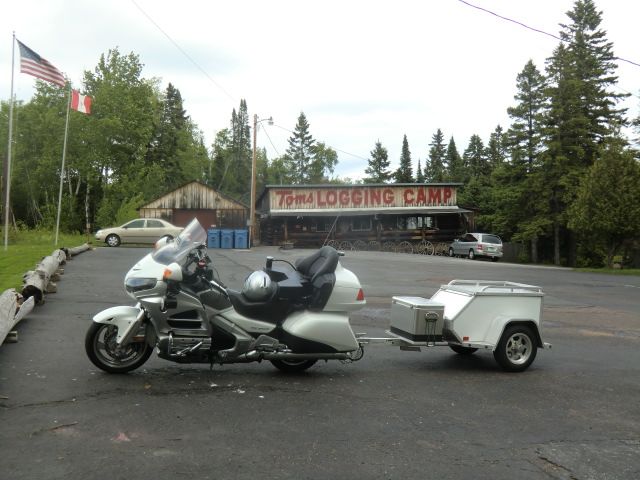 After his lunch, we road about 120 miles to our camping spot in Grand Marais Mn. We stayed at a city owned campground. Had a nice meal at a local pub and it was lights out. Campgound was a welcome site, as my butt was dragging and a good night sleep was in order.
Next.....
Woke up with some rain in the middle of the night, but by morning all was well and my tent was dry. After packing up and on the road at 6am. We road to the border and had a cup of coffee and filled the tanks for the last time with cheap fuel. I have a Aux fuel tank on my Wing, and carry a little over 11 gallons. This gives me almost 400 miles between fill ups, and only one fuel stop in Canada at 1.52 a liter ($6.00 a gallon).
We ate breakfast in Thunder Bay, and the weather was cool but sunny. The Gerbing electric's felt good and I was glad I packed them. We rode all the way to Wawa, along the way we seen moose, bear, dear, and three otter crossing the road. The three otter (Moe, Curly, and Larry) made me smile. They crossed head to tail with there backs bowed up. I had to slow down to keep from running over them. The two black bear are always great to see in the wild. The second was bigger than any black bear I have ever seen, larger than any I seen last year on my Alaska trip.
When we pulled into the town of Wawa there it was... My favorite place in Canada... Tim Hortons.... I love that place. Wish we had one here in Missouri... After a cup of coffee and the best donut around we planned for the night. My buddy was having a hard time sleeping and wanted a room... I wanted to camp.. So we split for the night, and I went to the local camp ground. Our plan was to meet at Tim's for breakfast.
Wow, I should have followed his lead. It was cold that night..28 deg. But I made it through the night with only one scare. I ask, like always the campground owner if they have had any bear problem. There reply was not in there park, but had seen several across the road. I have slept with the bears often, and use common sense. Put your food, and anything that has a smell away from camp. Around 3am I heard the sound of the trash can lid hitting the ground. I was out of my sleeping bag, slipped my boots on, grabbed my flashlight and bear spray and unzipped my tent. After popping out of my tent with the light in one hand and the spray in the other. Looked around and did not see anything. I walked to the road and seen the trash can and the lid was on the ground. When I walked up to the can a 300 pound racoon popped his head out and made me jump. I love the wild, always a surprise out there.
You can see the can in the above picture. Nice campground, hot showers and great owners.
That morning I am at Tim Hortons waiting on my buddy... 45 minute late another bike pulls up and tells me his Beemer would not start and where to find him. It only took a few minutes and a jump and we are headed back to Tim's for more coffee and donuts.. Did I tell you I really like Tim Hortons..
We road the day away with Lake Superior off the our right. It is a great place to go.. The next stop was in Pancake Bay and a real live trading post. This place was way cool, they had wood carvings, animal pelts and everything in between.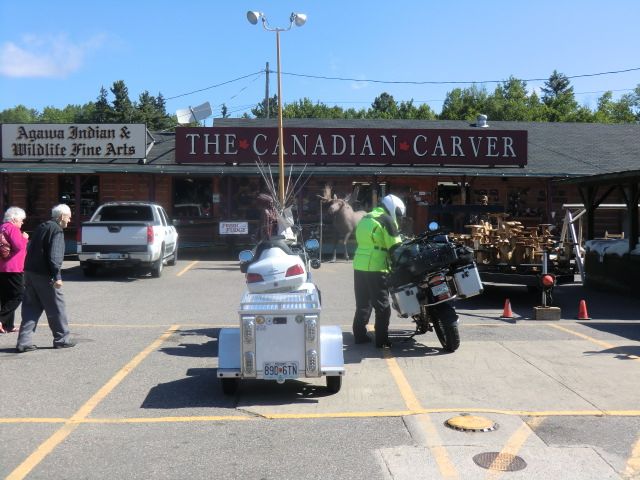 After the last stop we are on the way back state side. The border crossing was a pain, and took about 30 minutes. We worked our way around the the U.P. of Michigan and to Paradise Mi. It is a nice little town and right on our way to Whitefish Point. Next stop the Whitefish Bay Shipwreck Museum, there has been way more ships down than I ever thought in Lake Superior.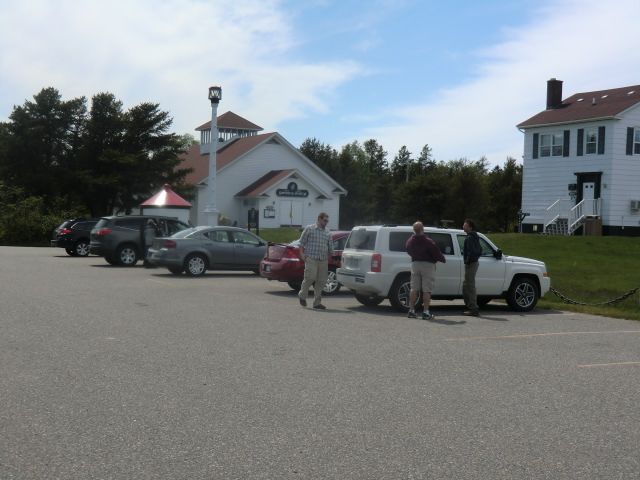 My buddy Chester..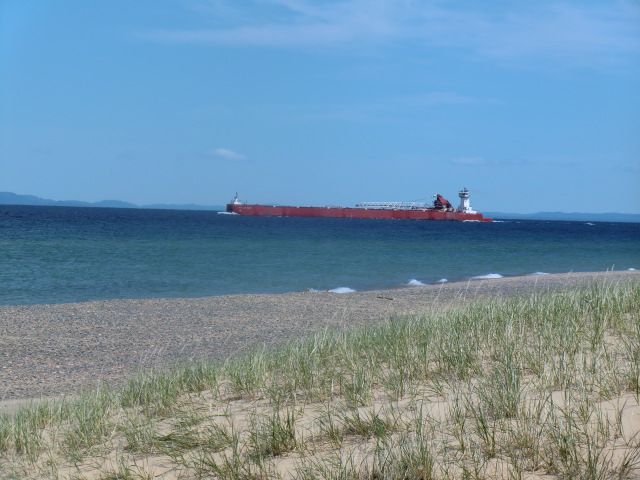 One Big Boat!!!
Later that evening we found a nice campground on Lake Michigan. It was just north of Manistique Mi. Is was very nice, and only $12. bucks. But there was a bonus... Someone left us maybe 20 sticks of firewood... Perfect!!
The next morning we were up early and on the road around 5:30. Stopped for breakfast, and blast for home. My friend and I stayed together to around Rockford Il. He split off and headed for Kansas City, I went south headed to St. Louis.
Wow, vacation sure goes fast... Next trip in September... Will have 12 days to ride out west....
Smitty